The Annapurna Circuit Trekking is a long and arduous trekking route that takes hikers around the Annapurna massif. It is one of the most popular trekking trails in the world and is very well known for its spectacular views and magnificent mountains.
The trek passes through the villages and towns of the Annapurna region and offers a beautiful view of the Annapurna mountain range. The Annapurna region is famous for its natural beauty, cultural heritage, and rich flora and fauna. The trekking starts from Besisahar and ends at Muktinath, with total trekking of approximately 160 kilometers.
But if you are thinking of going on a trek here then first you would like to know what kind of weather you shall be in there like is it going to be hot? Or cold? Or snowy? You would like to know the weather to prepare yourself, like what kind of clothes, necessary equipment, gear, etc to bring.
So here we will discuss all the types of weather you will face during the Annapurna circuit trekking. The major weather you can expect on the Annapurna circuit is:
Cold
Yes, the weather will be cold once you start climbing at a higher elevation, especially at night. This trek has areas with temperatures in the negative of over 4000 meters. Hence you should be prepared for frigid temperatures.
Winter in Nepal lasts from December to February. In the Annapurna area, these are the coldest months. The temperature on the Annapurna Circuit Trek might change as you gain altitude. The lower areas' daily temperatures average range from 12 to 4 degrees Celsius.
The temperatures are slightly lower at the mid-altitude zones of 2000–4000 m. At these elevations, the daily average temperature might fluctuate between 2 and 8 °C. Even during the day, temperatures at higher altitudes are minus degrees.
On average, the nights are significantly cooler than the days. Weather conditions may cause high passes like the Thorung La Pass to stay closed. Examine the Pass's condition in advance. Early December is the optimum time to trek to the Annapurna Circuit.
Rainy
If you're planning to go trekking during the rainy season, make sure to be prepared for the rain. Rainfall can be heavy in July. Insects such as leeches, mosquitoes, and other pests are to be expected in the lower areas. Rainfall leads to mudslides, airline delays, and blockages on paths.
The Annapurna region is one of Nepal's main rain shadow regions. Since the majority of the trail is located on the Annapurna Mountains' leeward side. Only 10% of the monsoon rain falls in this area.
Because the tall Annapurna Mountain range blocks the monsoon winds and showers, it is accessible all year round. But even though it doesn't rain much regularly, in the rainy season, it is still best to not trek then.
Windy
The higher you go in, the higher elevation, the higher the wind will be too. Depending on the situation, it may not be windy at all. It becomes super windy sometimes. It generally does not get windy a lot in the Annapurna circuit, but as the weather is ever-changing in the Annapurna circuit, no one knows when it's going to get windy.
So, it is better to be cautious about it and check the weather. There are lots of dry places in the Annapurna circuit so there will be lots of sand on wind it may get into your eye, so wearing a sunglasses will prevent it.
Snowy
December-January is the time when it snows the most.So, if you are planning to trek on this time make sure to bring all the necessary clothes and gears which will help you in these conditions and with snow it will get super cold too.
One thing to remember when buying clothes do not buy the cotton one as when cotton gets wet, it takes a very long time to dry, which will make your whole trek miserable as nobody wants to trek on wet clothes.
Warm
If you are coming in the summer season, the temperature is going to be generally warm at least in the lower region of the Annapurna circuit. It's not going to be super hot in any way, just a moderate temperature, so at that time, wearing simple casual trekking clothes will suffice.
Of course, it will get cold once you start hiking at a higher altitude. It will not be super cold like in other seasons so wearing clothes that can keep you warm will be ok.
But from time to time when you are trekking, it's going to be hot sometimes and then cold the next hour so wearing clothes that can be easily changed will make your trek easier. If it gets a little cold wear the jacket and then when it gets hot remove the jacket simply.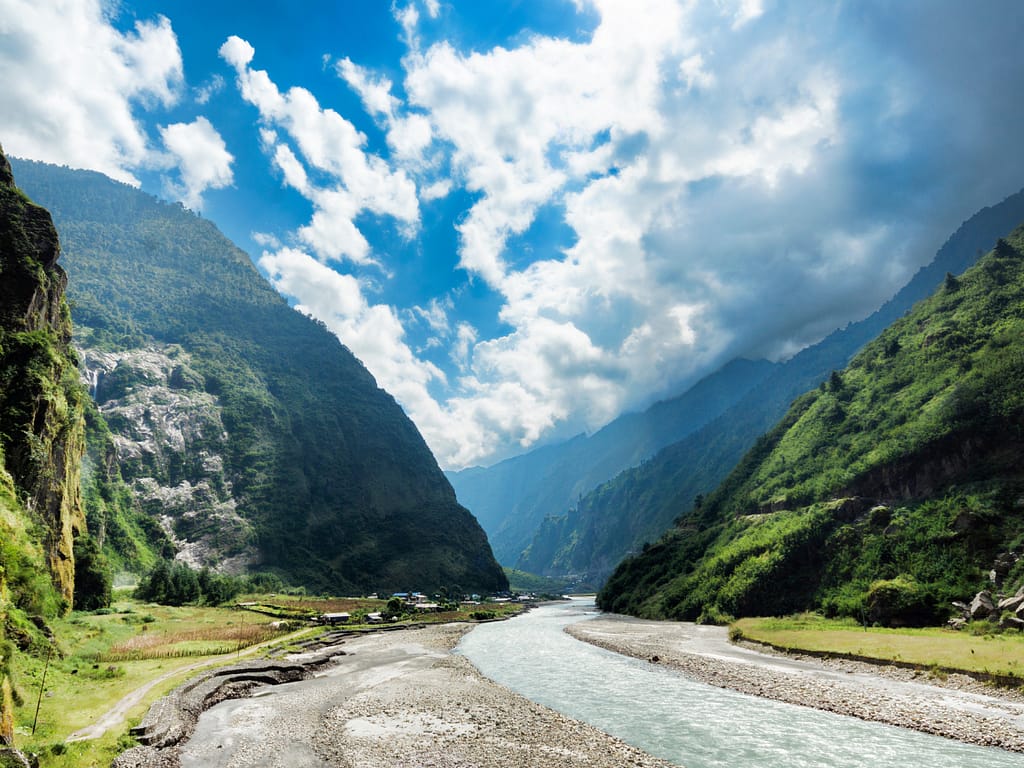 Conclusion
In conclusion, preparing for the weather conditions you'll encounter on your trip is important. You don't want to be caught unprepared. It is very important to prepare for the weather conditions you'll encounter. If you are planning on doing the Annapurna Circuit trek, you'll need to be prepared for all types of weather, including high-altitude weather.
The weather will change drastically from day to day. You'll also need to be prepared for sudden temperature, humidity, and wind changes. There are a few things to keep in mind when planning your trip.
The first is to remember that it's best to go in the spring or fall. The other is that you should take the time to prepare yourself physically and mentally for the trek and lastly, make sure to buy appropriate clothes, gear, and equipment for the trek.
Its better not to carry a lot of things with you, but if you are planning to carry lots of stuff, then hiring a porter will be a better idea.