You step off the plane into a new, strange world. The air is thin and cold, and the sun is blazing high in the sky. You have no idea what to expect. This is your first time in this country, in this hemisphere.
You've been preparing for months for the Annapurna circuit trekking, reading everything you can find on the internet, but still, you don't feel fully prepared. The night before your flight, you lay out all of your gear, making sure you have everything you need. You're pretty sure you have everything, but you can't help but worry. What if you've forgotten something important?
Don't worry; we've got you covered. This packing list will ensure you have everything you need to make your trekking experience as comfortable and safe as possible.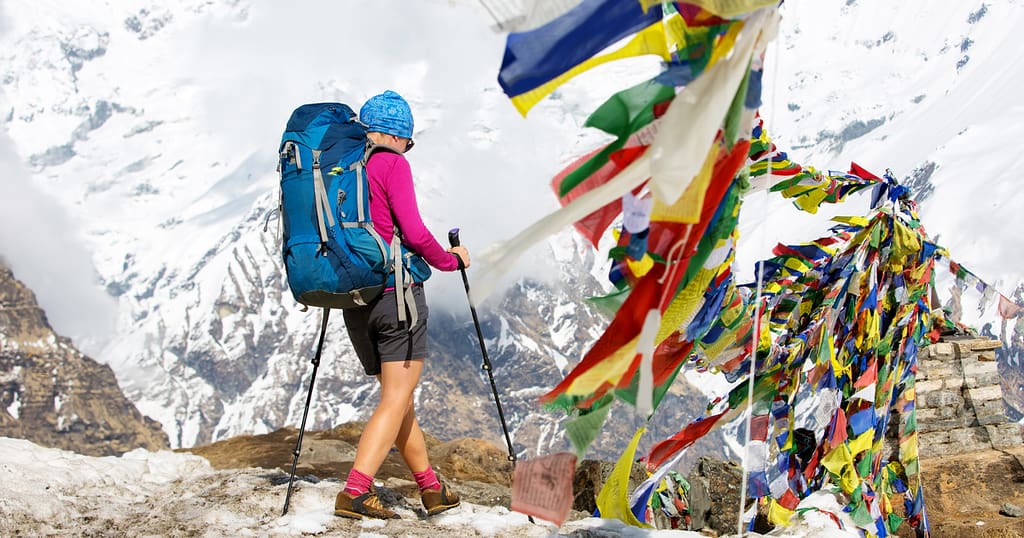 Annapurna Circuit Pre-Trip Planning
The first step in any successful trek is to do your research and plan ahead. The Annapurna Circuit Trek is a challenging hike, so it is essential to be prepared before embarking on the journey. Here are a few things to keep in mind when planning your trip:
Choose the right time of year to go. The best time to hike the Annapurna Circuit Trek is during the spring (March to May) or fall (October to November). These months offer the best weather conditions for trekking.
Choose your route. There are two routes you can take to hike the Annapurna Circuit Trek. The first is the traditional route, which starts in Besisahar and ends in Nayapul. The second is the recent alternative route, which starts in Chamse and also ends in Nayapul.
Plan your acclimatization days. It is essential to take a few days to acclimatize to the high altitude before attempting to summit any of the peaks. We recommend taking at least two rest days during your trek.
Train before you go. Hiking the Annapurna Circuit Trek is no easy feat. Be sure to do some training before your trip to make sure you're physically prepared for the challenge.
What to Pack for the Annapurna Circuit Trek?
Now that you've planned your trip and are ready to hit the trail, it's time to start packing. Here is a list of everything you will need for your Annapurna Circuit Trek:
Absolutely Necessary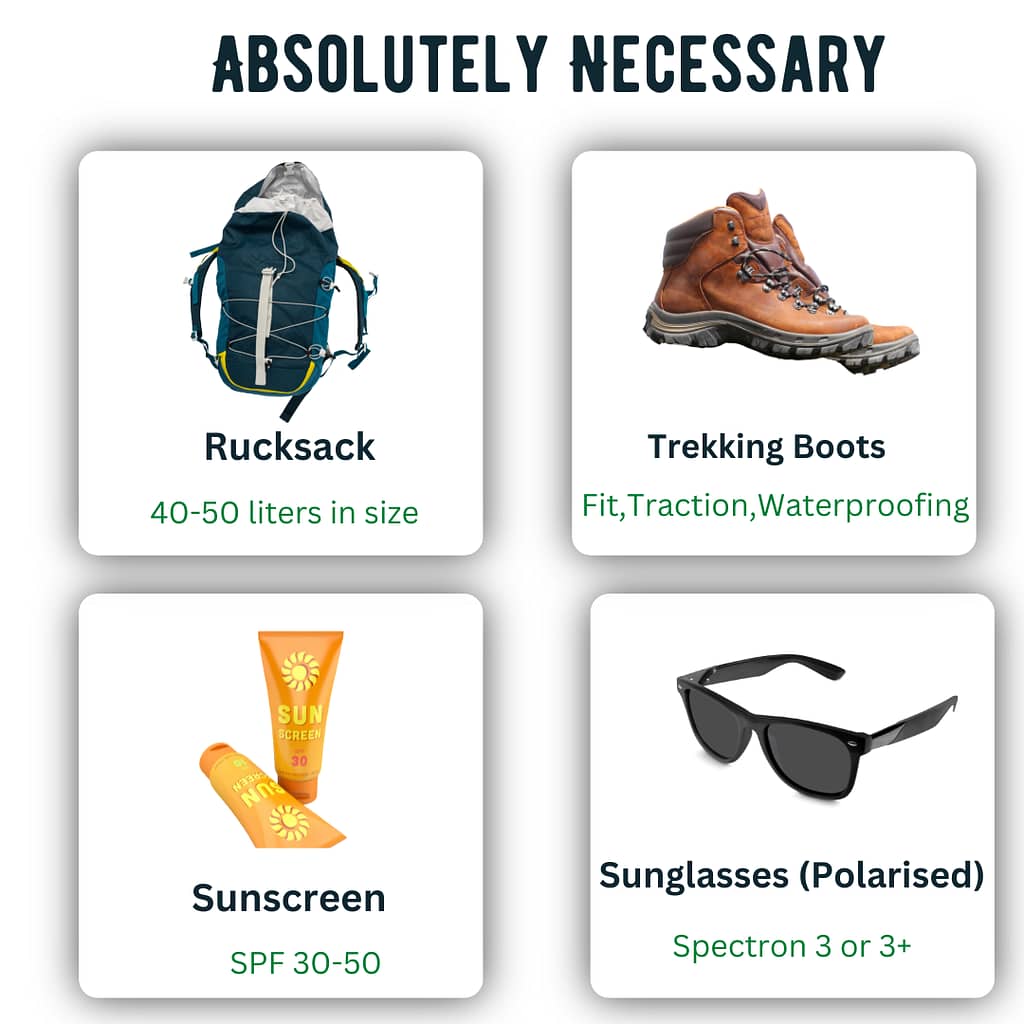 Trekking Boots: Make sure you break them in if you are buying one right now.
Rucksack: If you are hiring porters, a 30-liter bag will do. Else get at least a 60-liter one.
Sunglasses (Polarised): Heard of Snow Blindless? Even wear on overcast days and invest in good straps. Also, ensure it is rated Spectron 3 or 3+.
Sunscreen: SPF 30-50 will be good enough. Apply twice a day.
Sense of Humour: your trip will be that much better for it.
Must Have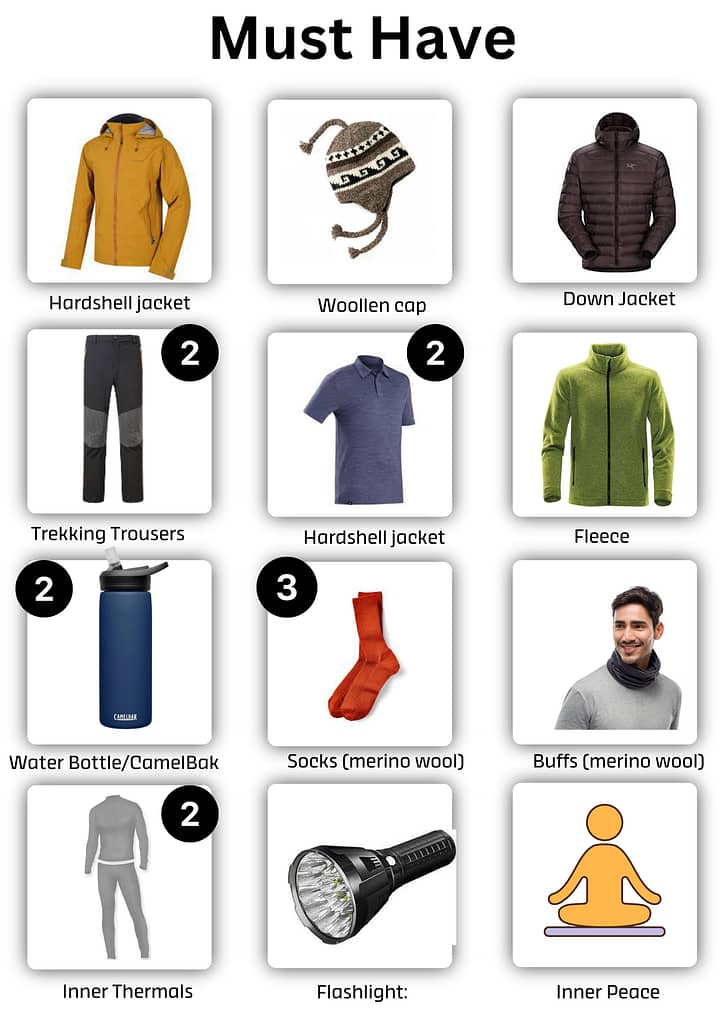 Trekking Trousers: 2 pairs. Lightweight and Loose.
Trekking Shirts: 2 pairs, a Collared one is better. Avoid cotton like the plague.
Fleece: Great in oh-so-many ways.
Inner Peace: Nepal has too many uncertainties. Keep calm and breathe.
Hardshell jacket: Make sure it is breathable and waterproof.
Down Jacket: you know it is the Himalayas, after all.
Buffs (Merino wool): 1 pair. Prevent Khumbu cough by using this as a mask to breathe in humidified air.
Socks (merino wool): 3 pairs of medium and 1 pair of Heavyweight socks.
Inner Thermals: Having 2 pairs of thermals for both the upper and lower body is awesome.
Woolen cap: Or get a headache.
Water Bottle/CamelBak: Get 2 that can take in hot water. Insulated covers are kind of great.
Flashlight: Look for LED head torches.
Good to Have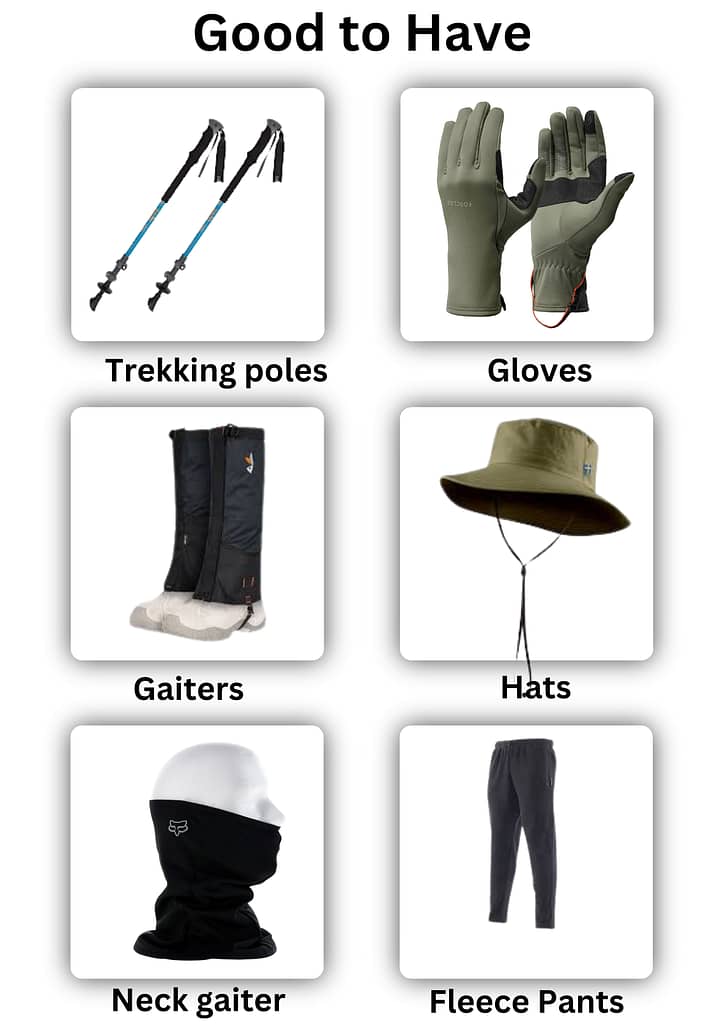 Neck gaiter: Much warmer than a buff.
Trekking Poles: Your back and legs will love you for these, especially in downhill stretches.
Fleece Pants: You can remain warm and feel clean during the evening.
Nepali Language: Learn to say more than Namaste. You will be adored.
Gaiters: Avoid frostbite when the weather takes a turn for the worse.
Gloves: Make sure it is at least windproof.
Sun Hat: The amount of UV up there is just ridiculous.
Might as Well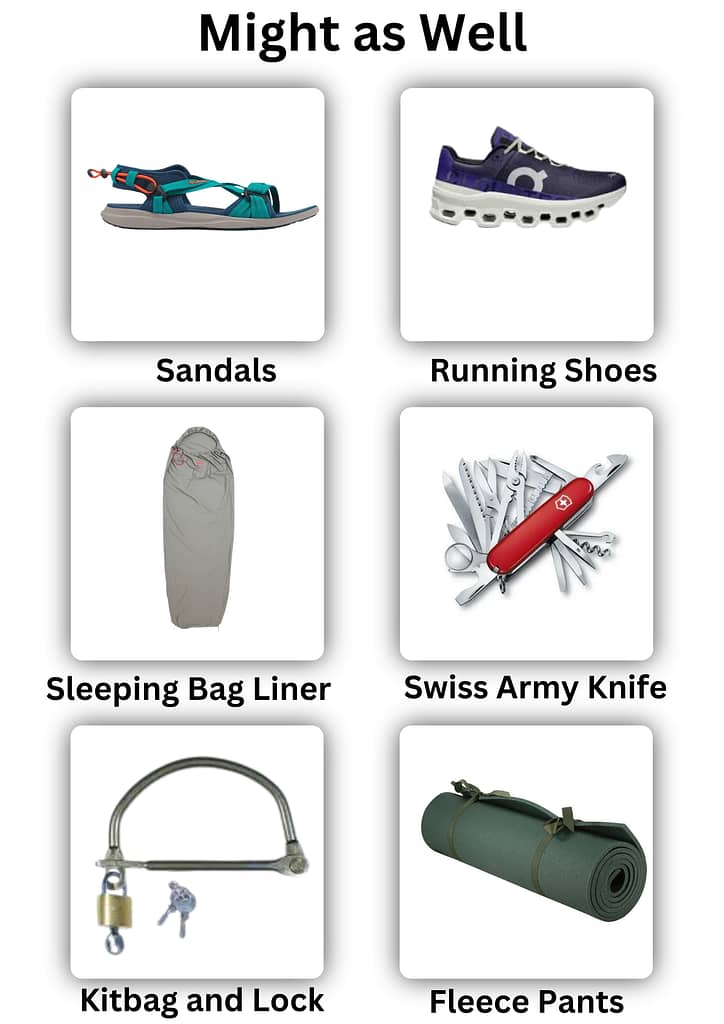 Kitbag and Lock: If you plan to hire a porter.
Swiss Army Knife: Remember to pack it in your luggage during Flight.
Sleeping Bag Liner: Silk liners are preferable to fleece ones.
Running Shoes
Sandals: Great for giving your feet a breather during the evenings.
Food and Snacks
Energy Bars: Lots and lots of them.
Chocolate: Snickers, Milkybar, etc.
Dried Fruits: A great way to get your daily dose of vitamins.
Nuts and Seeds: For a quick protein fix.
Instant Coffee and Tea
Toiletries and medications
Covid Safety Kit: Face Mask, Hand Sanitizer, Disinfectant Wipes.
Toilet paper: It's always a good idea to carry a roll with you, just in case.
First aid kit: Pack any medications you regularly take, bandages, gauze, and painkillers.
Antibiotics (optional). If you're trekking during peak cold and flu season, it might be a good idea to bring some antibiotics along, just in case.
Motion sickness medication (optional). If you're susceptible to motion sickness, it's better to be safe than sorry.
Altitude sickness medication (optional). Diamox is a common choice for trekkers.
You can also find the complete checklist in this pdf.
Travel Documents
Visa
Getting a visa is one of the most important things if you want to stay in Nepal. You can get a visa before flying to Nepal, or you can get it by booking it online 10-15 days prior or at the airport, which people generally do. You can choose three main types of Tourist visa, which are:
15 Days – 30 USD
30 Days – 50 USD
90 Days – 125 USD
But if you are planning to stay for more then, you can extend it up to 150 days in Kathmandu or Pokhara, which will cost you a little more.
Permits
Two permits are needed for the Annapurna circuit, which you can get in Kathmandu or Pokhara. Password-size photos are required, so bring them while coming to get the permits. They are:
Trekkers Information Management Systems (TIMS) Card
Annapurna Conservation Area Permit (ACAP)
It is very important to keep it in a safe and accessible place because you will be asked to show you these permits in different places during the trek.
Travel Insurance
While trekking, you might come up with different health problems, and as you will be traveling at a high altitude, it is highly recommended to take travel insurance before the trip.
It is also important to ensure that the insurance covers everything like tour cancellation, health, etc. A lot of insurance will not cover up for you for over 4000m, so make sure to read everything properly.
How to Pack for a Trek?
Packing for a trek can be tricky, especially if you're not used to spending extended periods of time in outdoors. Here are a few tips to help you pack everything you need without overpacking:
1. Start with the essentials. Make a list of everything you absolutely need, and make sure to pack those items first
2. Choose versatile clothing. Choose clothes that can be worn in multiple layers so that you can adjust to changes in the weather.
3. Pack light. Avoid packing anything you don't need. Every extra pound you carry will make the trek that much more difficult.
4. Use packing cubes. Packing cubes can help you organize your luggage and save space.
5. Roll, don't fold. Rolling your clothes will help them fit into tight spaces and prevent wrinkles.
6. Pack an extra day's worth of clothes. Always pack an extra day's worth of clothes, just in case you get delayed on the trek.
Backpack
Your backpack is the most essential item on your packing list for the Annapurna Circuit Trek. And not just any backpack – you'll need a comfortable, sturdy one that fits well and can carry all your gear.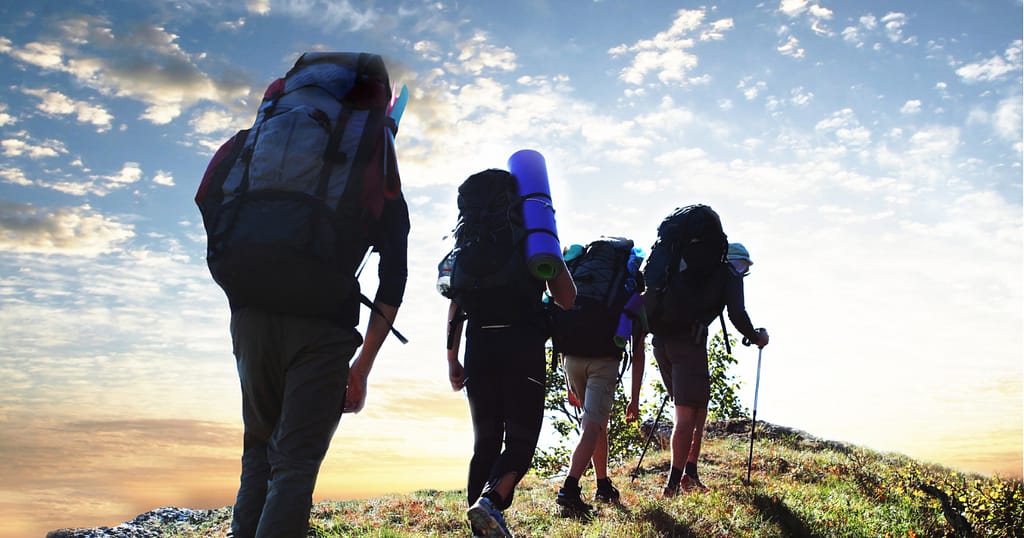 Choose the right size.
On the Annapurna Circuit Trek, you'll be carrying everything needed for the duration of the trek, so make sure your backpack is big enough to fit all your essentials. A good rule of thumb is a backpack that is 40-50 liters in size.
Comfort is key
Your backpack should also be comfortable to wear, with straps that distribute the weight evenly and don't dig into your shoulders. A padded hip belt is also a must, as it will take some of the strain off your back and help you carry the weight more easily.
Useful compartments and pockets
Look for a backpack with plenty of compartments and pockets, as this will make it easier to organize your gear and keep track of everything you need. And make sure the zippers are good quality – you don't want them breaking in the middle of the trek!
Rain cover
A rain cover is an essential piece of gear for the Annapurna Circuit Trek, as you never know when a sudden downpour will hit. Make sure your backpack has a built-in rain cover, or pack one separately to keep your gear dry no matter the weather.
Packing Clothes For Layering
1. Base layer: The base layer is the layer of clothing that is in direct contact with your skin. It should be made of a material that wicks away sweat and moisture to keep you dry and comfortable.
2. Mid layer: The mid layer is designed to provide insulation. It should be made of a breathable material that will trap heat and help you stay warm.
3. Outer layer: The outer layer is the final layer of protection from the elements. It should be made of waterproof and windproof material to keep you dry and prevent wind chill.
4. Extras: Be sure to pack a few extras, such as a hat, gloves, and a scarf, to keep you warm in case the weather turns cold.
Which hiking boots to wear for Annapurna Circuit Trekking?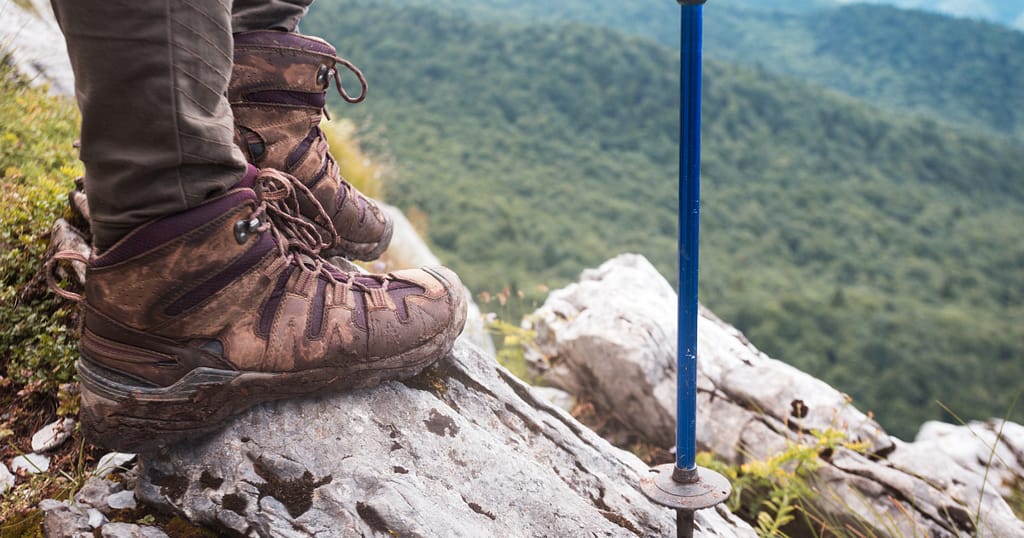 Your footwear is one of the most important things to consider when packing for the Annapurna Circuit Trek. This is a strenuous trek, and you'll be doing a lot of walking, so it's essential to have a good pair of hiking boots that will support your feet and provide traction on the trail.
When choosing hiking boots, there are a few things to keep in mind:
1. Fit: Make sure the boots fit well and are comfortable to walk in. You don't want blisters or sore feet halfway through the trek!
2. Support: Choose a boot with good ankle support to prevent rolled ankles.
3. Traction: Ensure the boots have good traction to prevent slips and falls on the trail.
4. Waterproofing: waterproofing is a must in case you run into any rain or snow on the trek.
Hiking socks are also important, as they will help protect your feet from blisters and keep them warm in cold weather. Be sure to pack a few pairs of socks, and consider bringing along some foot powder to keep your feet dry.
Which type of sleeping Bag is good for Annapurna Circuit Trekking?
The type of sleeping bag you need will depend on the time of year you are trekking. For the Annapurna Circuit Trek, you'll need a three-season sleeping bag rated to 0 degrees Fahrenheit (-18 degrees Celsius). This will keep you warm on cold mountain nights.
Down sleeping bags are a good option, as they are light and compressible, making them easy to carry. Synthetic sleeping bags are another option, and they are cheaper than down bags. However, they are not as compressible and can be more difficult to carry.
Carry Your Gear in a Durable, Waterproof Backpack
Your backpack is one of the most important items on this packing list. It needs to be big enough to fit all your gear but not so big that it's cumbersome to carry. And it should have comfortable straps and a hip belt so you can distribute the weight evenly.
It's also important to make sure your backpack is waterproof. That way, you don't have to worry about your gear getting wet if you get caught in a rainstorm. And if you're trekking during the winter, a backpack with an insulated compartment can help keep your sleeping bag and other essentials warm and dry.
What Toiletries Should You Pack for Annapurna Circuit Trekking?
Toiletries are an important part of your packing list for Annapurna Circuit Trek. You'll need to pack soap, shampoo, toothpaste, and toilet paper. And if you're trekking during the winter, you might consider bringing along lip balm and hand cream to prevent your skin from drying out.
Of course, you'll also need to pack any medications you take regularly. Be sure to bring enough for the entire duration of your trip, plus a few extra in case of emergencies. And if you have any allergies, be sure to pack appropriate medication (e.g. an EpiPen) in case you have a reaction.
Can you buy trekking gear in Kathmandu?
Absolutely! Kathmandu is one of the best places in the world to buy trekking gear. Hundreds of outdoor gear shops in the city sell everything from hiking boots to tents to sleeping bags. Prices are very reasonable, and you can often find great deals on top-brand gear.
If you're planning a trek in Nepal, it's worth spending a few days in Kathmandu to stock up on gear. You'll find everything you need, and you'll be able to get it at a fraction of the price you would pay back home. So don't hesitate – head to Kathmandu and start shopping!
FAQs
Do I need to pack a sleeping bag?
You must bring a sleeping bag for your Annapurna Circuit Trek. The temperature can drop below freezing at night, so having a good quality sleeping bag is important to keep you warm.
What type of clothing should I pack?
You will need to pack warm clothing suitable for hiking. This includes a waterproof jacket, thermal layers, and hiking boots. It is also important to pack sunscreen and sunglasses as the sun can be very strong at high altitudes.
Do I need to bring any special equipment?
You will need to bring your own hiking gear, including a backpack, water bottle, and trekking poles. You may also want to bring a headlamp and first-aid kit.
What food should I pack?
It is important to pack enough food for your Annapurna Circuit Trek. This includes snacks such as energy bars and nuts, as well as packed meals that are high in calories. You will also need to pack plenty of water.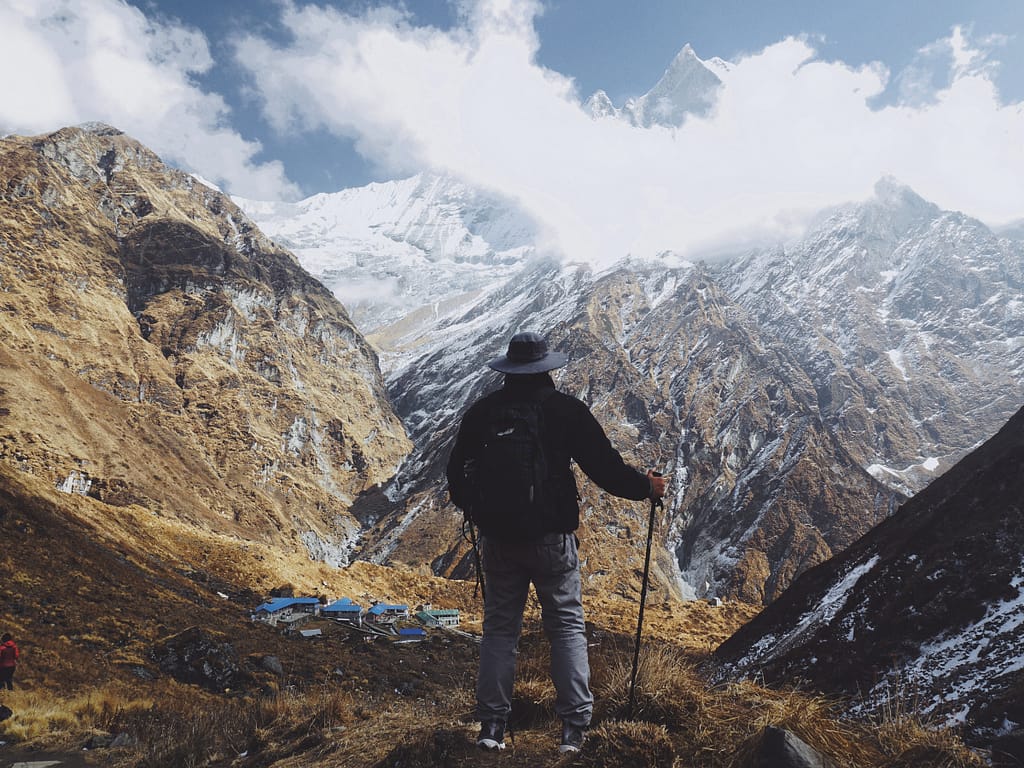 Conclusion
This packing list for Annapurna Circuit Trek will help make sure you have everything you need for a safe and comfortable journey. Be sure to pack all the essentials, from a good quality sleeping bag to warm clothing and plenty of food. And don't forget to pack your sense of adventure!
We hope you found this article helpful. If you have any questions or comments, please feel free to reach out to us. And be sure to check our other articles for more tips and advice on trekking in Nepal.
Happy trails!