Annapurna Circuit trek is one of the most popular treks in Nepal. It is a three-week trek that takes you through some of the most beautiful scenery in the world. The circuit goes through several different climate zones so that you can experience everything from lush rainforests to snow-capped mountains.
Embarking on the 12-18 day Annapurna Circuit  is an experience of a lifetime – here are the top reasons why:
1. The Views are Breathtaking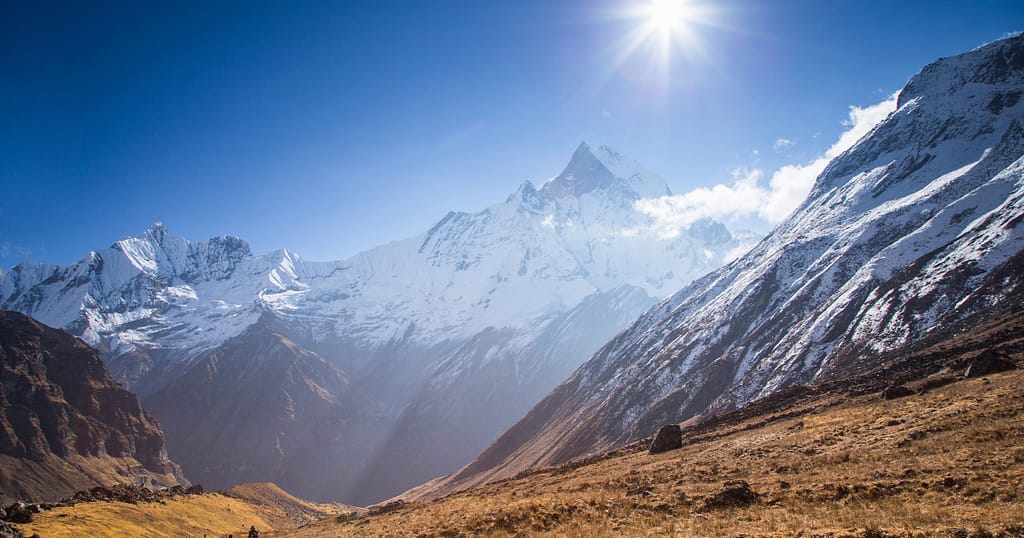 The views you'll experience on the Annapurna Circuit are unlike any other.
Every turn brings a new vista of towering peaks, verdant valleys, and rushing rivers. The trail also takes you through various landscapes, from sub-tropical forests to high alpine meadows.
It offers breathtaking views of some of the tallest mountains in the world, including Mount Annapurna (8,091 meters/26,545 feet), Mount Machhapuchhre (6,993 meters/22,943 feet), and Dhaulagiri (8,167 meters/26,795 feet).
There's simply no other trek that offers such a varied and stunning array of scenery.
2. Locals are the friendliest people you'll ever meet
The people you'll meet while trekking the Annapurna Circuit are some of the warmest and most hospitable people you'll ever encounter.
They're always happy to chat, share a cup of tea, and offer advice on the best places to eat and stay.
You'll quickly develop a deep appreciation for the Nepali people and their culture.
3. You'll get to experience a wide range of climate zones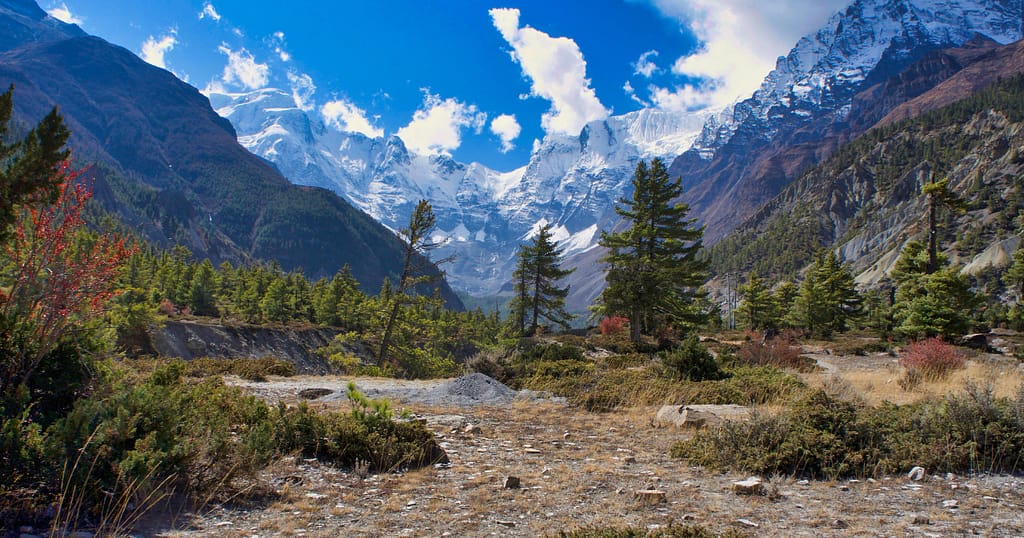 You'll get to experience a wide range of climate zones. The first few days are spent in the subtropical valleys before you make your way into the temperate forests. Then, it's onto the alpine meadows and the high-altitude desert.
It's an incredible opportunity to see how the landscape and vegetation change as you gain altitude. You'll also get to experience firsthand the effects of altitude sickness.
4. You Can Take Your Time
One of the great things about the Annapurna Circuit is that there's no rush.
You can take your time and enjoy the scenery, chat with locals, and really soak up the experience.
If you want to take a rest day (or two), there are plenty of hotels and guesthouses along the way where you can relax and recharge.
5. You'll Be Challenged Physically and Mentally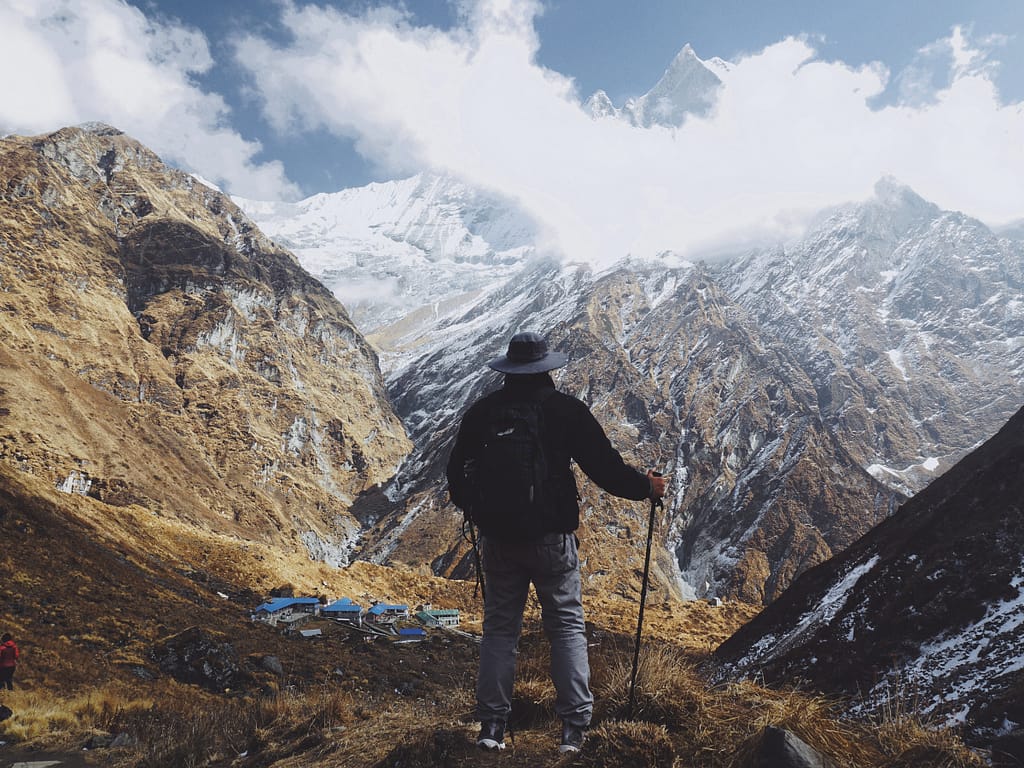 The Annapurna Circuit is definitely not a walk in the park.
You'll be trekking for hours each day, often at high altitudes. This can be tough going, especially if you're not used to it.
But that's all part of the adventure. Pushing yourself to your limits and overcoming challenges is one of the best parts of any journey.
6. You'll Appreciate Life's Simple Pleasures
After spending a few days on the Annapurna Circuit, you'll quickly come to appreciate life's simple pleasures.
A hot shower will feel like the best thing in the world, and a plate of steaming dal bhat (a traditional Nepali dish) will taste better than anything you've ever had before.
You'll also develop a new appreciation for your bed at home!
7. You'll Unplug from Technology
The Annapurna Circuit is the perfect opportunity to unplug from technology and disconnect from the outside world.
There's no cell phone reception and very limited (if any) internet access along the way.
This is a chance to really connect with nature, slow down, and enjoy the present moment.
8. Unique Accommodation Options: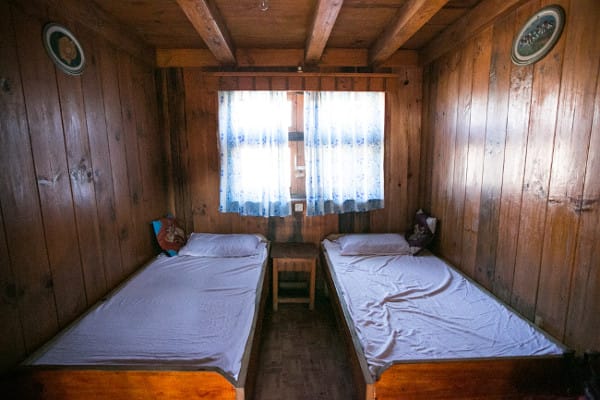 One of the best things about the Annapurna Circuit is the unique accommodation options you'll find along the way. Whether you're looking for a simple guesthouse or an upscale lodge, there's something for everyone. And since most of the lodges are family-run, you can be sure to receive warm hospitality and great service throughout your stay.
Another plus is that you don't need to carry all your gear on the trek. You can easily arrange for porters to transport your belongings from one lodge to the next, so you can travel light and enjoy the scenery more.
9. Monastery, Stupa, Mani walls, and flags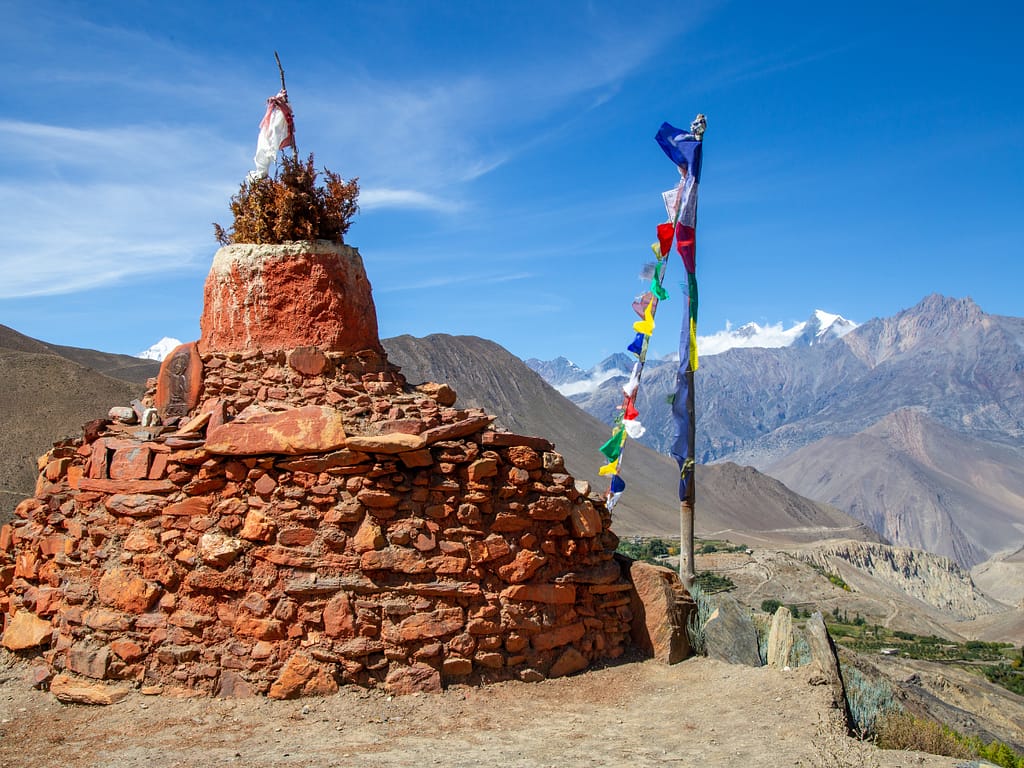 Every village along the Annapurna circuit trek has a monastery.
You'll also see plenty of stupas, mani walls (walls with Tibetan Buddhist prayers inscribed on them), and colorful prayer flags fluttering in the wind.
It's a great opportunity to learn about Tibetan culture and see some of the most beautiful religious architecture in the world.
10. It's Not Too Crowded
One of the great things about the Annapurna Circuit is that it's not too crowded.
Sure, you'll see other trekkers along the way, but it's nothing like some of the more popular routes in Nepal (such as the Everest Base Camp Trek).
This means you can enjoy more peace and quiet as you take in the stunning views of the Himalayas.
11. It's Accessible for All Levels of Hikers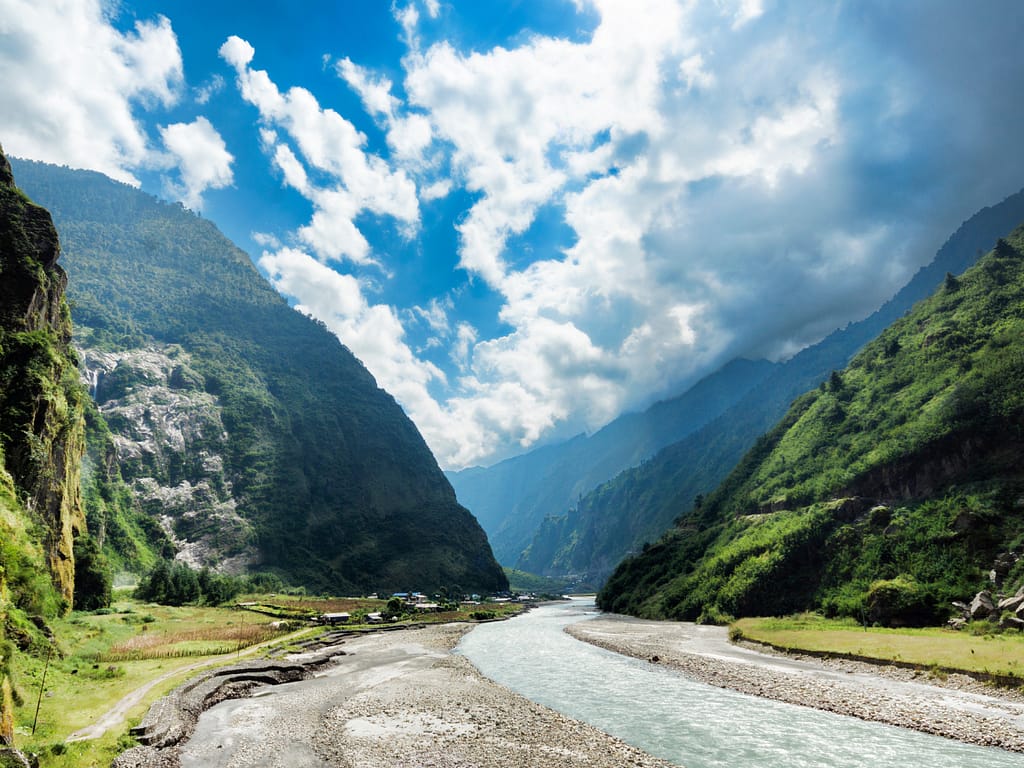 The Annapurna Circuit is a great option for trekkers of all levels. If you're a beginner, you can take your time and take plenty of rest days to acclimatize to the altitude. And if you're more experienced, there are plenty of challenging sections where you can really push yourself.
No matter your level, the Annapurna Circuit is an incredible trek that will stay with you long after you return home.
12. It's affordable.
One of the best things about Nepal is that it's an affordable country to travel to. And the Annapurna Circuit is no exception.
You can easily find budget-friendly guesthouses and lodges along the way, and there are plenty of cheap food options as well.
This makes the Annapurna Circuit a great option for budget travelers.
13. It's safe.
Despite what you may have heard, Nepal is a safe country to travel to. And the Annapurna Circuit is no exception.
You'll be fine if you take basic safety precautions (such as listening to your guide and not venturing off the trail).
So don't let the rumors scare you off – the Annapurna Circuit is definitely worth the trek.
If you're looking for an adventure of a lifetime, the Annapurna Circuit is it. Its stunning scenery, unique accommodation options, and challenging trails will surely give you memories that will last a lifetime. So what are you waiting for? Start planning your trek today!